SummerFest starts on 13 May at Purple Door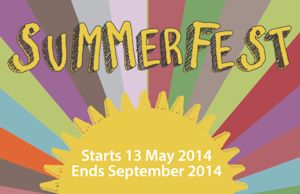 Starting on Tuesday, 13 May with a Get That Job Carousel Day and continuing over the summer until 31 August, SummerFest14 is a series of events workshops, courses and opportunities to help you to get the job you want or to help you to start-up a business.
This year Purple Door tell us you can win even more events and prizes!  For your chance to win, pick up a stamp card, collect at least 3 stamps and enter your completed stamp card into the prize draw at Purple Door.  You can collect a stamp at each SummerFest14 event or workshop you attend.
May/June
Headline events taking centre stage in Purple Door during May/June include the Graduate Recruitment Fair, joining UPSU for their summer BBQ, and a start-up course for final year students with a creative or digital idea.  Get That Job Carousel Days are also running, each day offering 6 workshops run on the same day for you to choose between.
Carousels include workshops on:
Professional Skills
Graduate Job Search Beyond Google
Linking without LinkedIn
Succeeding at Assessment Centres
Demonstrating Commercial Awareness
Branding Yourself on LinkedIn
August
Virtual events take place during August for that you can take part in wherever you are over the Internet.  They include:
Skype careers appointments
Skype enterprise appointments
Webinars
E-guidance
Online resources.
Core acts is ongoing support from Purple Door that is available throughout SummerFest, your time at University, and for five years after you graduate, offering:
Answers to the myths of the perfect CV, great applications and interview success
One-to-one careers or start-up advice
Part-time jobs
Volunteering and work experience
Free expert resources
During graduation Purple Door will be showing the ceremonies, so if you have family or friends that don't have a ticket they can join watch you graduate from the comfort of Purple Door.  There will be a range of refreshments to keep you going throughout the day and a peep-through board will also provide a great photo opportunity.
Find out more
A full list of events is available online at www.port.ac.uk/purpledoor or call Purple Door at purpledoor@port.ac.uk.