Today in 1800, the Library of Congress was founded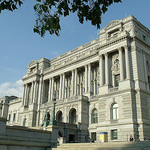 Today in 1800 President John Adams approved provision of $5,000 to buy "such books as may be necessary for the use of Congress." From these inauspicious beginnings, the Library grew to become the largest in the world, housing well over 135 million items in 2008.
It was only later, in January 1802, that President Thomas Jefferson approved the first legislation formally defining the role and functions of the Library of Congress.  Serving as a centre for both preservation and research, the Library of Congress is the oldest federal cultural institution in the United States and has developed library systems now widely used across the world.
Read more about the history of this important national library on the Library of Congress website.
Photo by Clarissa Peterson