English Language Day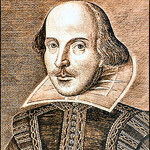 Today is English Language Day at the United Nations Organisation.  It is celebrated today because it is the official birthday of William Shakespeare.
Often referred to as a "world language" because it is so widely spoken, English is one of the six official languages of the UN, and together with French is one of only two official languages used by the UN Secretariat.
The UN celebrates each of its official languages every year to encourage multiculturalism, an appreciation and respect for the history, achievements and diversity of different world cultures, and to promote the use of different languages across the UN community.
Guide to simple, clear English
A day celebrating the English language at a time when many of you are finishing dissertations and assignments seems a good time to highlight the UN Organisation's advice on choosing simple, clear words.
The advice reminds me of "The Complete Plain Words" – a guide written for civil servants on how to write clear, simple English that everyone can read and understand that was later published and immediately became a best seller!  If you would like a guide to good writing habits, why not borrow a copy from your Library!
Photo by Lincolnian (Brian)