Edible Masterpieces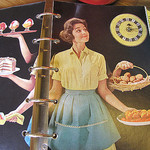 This one is for those of you who like to bake – library staff and fashion students raising funds for various things.
Edible Masterpieces aims to raise money for UK museums and galleries.  Art Fund hopes people will stage bake sales on or around 9th May.

The best designs will be entered into a competition to win art trips and exhibition tickets.  Find out more and get some inspiration online from http://www.artfund.org/get-involved/edible-masterpieces  I rather like the look of the Mondrian-inspired battenberg.  Please leave a comment if you're planning a cake sale.  I'm no baker, but I do enjoy eating cake!
Now for the library bit… where did I find this?  Grabbed the May 2014 edition of Artists & Illustrators  from the journal display for this morning's tea break.
Photo by litlnemo